White Villages of La Axarquia Walking Holiday
DAY 1
Arrive in Malaga and Competa
We meet you at Malaga airport and take you the accommodation in Competa, a journey of about one hour. There should be some time to relax and a couple of drinks before a briefing about the coming days ahead. Axarquia region and Competa will be our base for the next week. Dinner out included.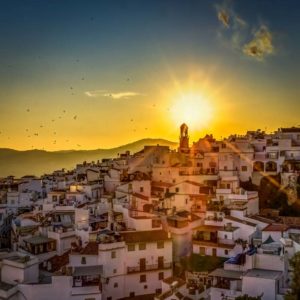 DAY 2
Cerro Verde (1,346m). 12km/7.5mi/750m ascent. Level 3
Today we start our week with a circular walk in the Natural Park. Transport will take us to Fábrica de la Luz where we begin our walk up the valley of the river Turvilla. We will pass by chestnuts and walnuts crops of el Chaparral farm. From the top of Cerro Verde we will have a fantastic view of the Natural Park while we enjoy our picnic lucnh. After lunch we will head downhill towards Atalaya passing on its firebreak to reach the track that will take us back to Fábrica de la Luz. Picnic lunch.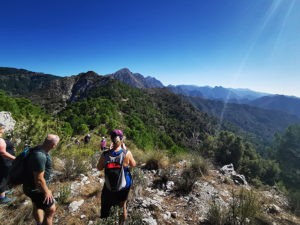 DAY 3
The Moorish Village of Salares. 11km/7mi/350m ascent. Level 2
Today we begin the walk from the door towards Canillas de Albaida where, we will head up the river Cájula through some old farms, avocado, chestnuts and walnut terraces until we reach a dirt track to continue ascending to Cruz del Muerto (Death Man's Cross). From here we will start to descend towards the tiny village of Salares passing through oaks trees until we enter Salares by an Arabian bridge. Once we are in Salares we will have our lunch. After lunch we will return to the accommodation by taxi. Picnic lunch.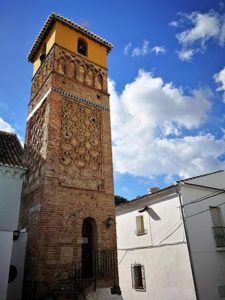 DAY 4
El Saltillo – Canillas de Aceituno. 11km/7mi/650m ascent. Level 2
A 40 minutes transfer will take us to the White Village of Canillas de Aceituno where we will start our walk through Almanchares Ravine and will cross it on the new bridge.
There are many plant and animal species living in this area (mountain birds such as the Egyptian vulture, griffon vulture and golden eagle; Spanish ibex, foxes, dormice, etc.). If you're in luck, you might be able to spot some of them. Picnic lunch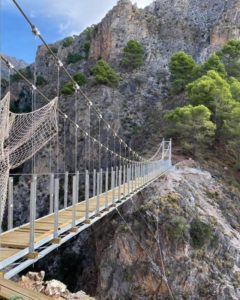 This is your free day and you may choose to visit Granada, and La Alhambra, a magnificient Moorish Palace (Tickets are not included, advance online booking is essential) which is just 1 hour 30 minutes away. You can also visit the beautiful village of Nerja, its Caves and old Town. There is also the option of a trip to Malaga to enjoy the view from La Alcazaba Fortress, the ruins of a Roman Theatre, to visit Museo Picasso or shopping in the old town or at the harbourside. And for those who would prefer to relax, there is always the option of a lazy day the pool, visiting the neraby villages or even self-guiding walks with our advice.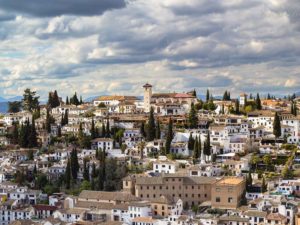 DAY 6
Peak of El Lucero (1,776m). 18km/11.18mi/1,280m ascent. Level 4
One of the most emblematic peaks of the Sierra de Almijara a classic climb to the top. Beside the caracteristic shape, this mountain is famous for being the witness of many battles between the Maquis (Spanish guerrillas) and the Civil Guard. There is still a ruin of a Guardia Civil barracks on the top of the Lucero. The walk starts from the door of our accommodations where we head first for Puerto Blanquillo. From here we follow a track before joining a steep windy track that takes us towards Cerro Gavilán. From Gavilán we will take the ancient muleteer's track towards Granada province. We will reach Puerto Blanquillo at 1,200m where we will head up to el Lucero. With a bit of luck we can glimpse Mountain Goats, Golden and Bonelli's Eagles. The views at the top are stunning, huge sweeps of Granada province. On clear days we can see Gibraltar and many miles of the coast of Africa. We will return to Puerto Collado where 4×4 transport will take us to Competa. Picnic lunch.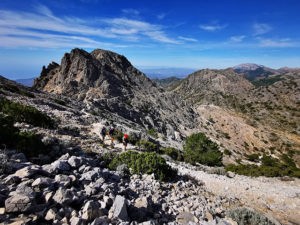 DAY 7
White Villages Walk. 11km/6.8mi/240m ascent. Level 2.
This is our last route and we reserve a special wine tasting and a easy walk. Our route starts at the San Antón Chapel in Competa. Here, a track takes us through avocado and olive terraces to the village of Canillas de Albaida where we will cross its maze and narrow streets towards the former Moorish village of Árchez where we will find a well conserved Arabic Minaret (14th Century).
From here we head towards Competa stopping at Almijara Bodega where we will enjoy the different moscatel wines that are produced and then a tour in the small and family winery. We will be back in Competa with free time to have lunch in one of the many bars and restaurants. After lunch we will return to the accommodation. Dinner out in Competa included.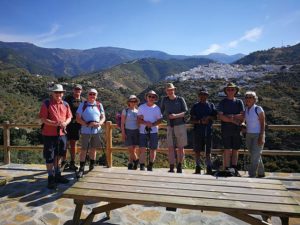 The tour ends today and we take you back to Málaga airport after breakfast.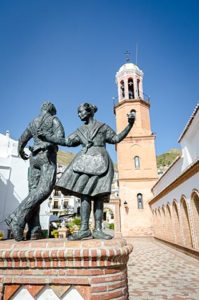 On this Holiday the accommodation will be Villa Madre Tierra and/or Apartments Alma y Montaña, a clean and comfortable accommodations offering a great experience in the foothills of
the Natural Park. Each room has air-conditioning, comfortable beds mattress, hypoallergenic bedding, and towels for a perfect hostel experience.
You'll find a fully equipped kitchen for your use in case you fancy cooking your own meals.
The outside area, surrounded by terraces of olive trees and great view to the coast, there are beautiful pools and sunbeds for a nice time with the views of the mountains and the villages.
Furthermore you can use the barbeques or sitting outside, perfect for a lazy day with a fantastic book.
A place with all the falicities to help you enjoy your holiday without any worry.
Not Included in the Price
* The pick-up point is usually Malaga Airport at 2.30pm and the return transfer arrives to the airport at 9.30am. These times are an estimation so please contact us before booking your flights. If your flight is later than our pick-up time or sooner than our return transfer we can arrange a taxi for you on your cost.
2021
| | |
| --- | --- |
| From 18/09/2021 to 25/09/2021 | €560 per person |
| From 25/09/2021 to 02/10/2021 | €560 per person |
| From 23/10/2021 to 30/10/2021 | €560 per person |
2022
| | |
| --- | --- |
|  From 22/01/2022 to 29/01/2022 | €560 per person |
| From 05/02/2022 to 12/02/2022 | €560 per person |
| From 05/03/2022 to 12/03/2022 | €560 per person |
| From 16/04/2022 to 23/04/2022 | €560 per person |
| From 07/05/2022 to 14/05/2022 | €560 per person |
| From 21/05/2022 to 28/05/2022 | €560 per person |
| From 04/06/2022 to 11/06/2022 | €560 per person |
Single Room Option: + €120
Group size: 4-6 → Alma & Montana Apartments
Group size: 7-12 → Alma & Montana Apartments + Villa Madre Tierra
Family group: Up to 8 people → Villa Madre Tierra